Joined

30 Jun 2018
Messages

177
Location
Hi everyone,
I was planning on starting a new scape in the new year inspired by Cinescaper's Lost World scape
So I've been patiently collecting the following hardware:
I plan to plant as per Cinescaper's suggestions with low demand plants, including:
Bolbitis heudelotii

Micrsorum
Hydrocotyle tripartita

Crypts
Rotala (species tbc)
Limnophila sessiliflora

Bacopa Caroliniana
Liliaeopsis Brasiliensis
A few mosses here and there
I was going to be patient but
@Geoffrey Rea
's vast portions of Bolbitis arrived to day and I had literally no room to put them in my 60L so an interim solution has been hastily fashioned in a very temporary location (any excuse to open and play with presents)!
There are a few things going on here:
Testing the tank and light listed above are in good working order
Planning on moving my 60L from it's current position and the cube and that tank are going to be placed together on a sideboard. The sideboard is being sanded and oiled before it is tank ready so the above is temporary for a couple of weeks (I hope)!
When I move the 60L I'm going to use the external Oase FiltoSmart Thermo 100 (from @Deano3 ) on that tank so I thought it would be an opportunity to start cycling that filter... I've 'pimped' it as per the video here

adding some Biohome media from PondGuru (https://filterpro.co.uk/biohome-media-3-c.asp)
It's the temporary tank for keeping the Bolbitis going until I'm ready to plant 'properly'. There is going to be loads spare!
A couple of queries I have that I'd appreciate any input about:
Without adding livestock how long should I leave the Oase running on this tank before I can consider it cycled and ready to swap on to the 60L? I've added decholrinated tap water and will continue to do so during the cycling period.
Are there any devices that can control output flow to lilypipes? The Oase has no option to reduce output flow so I was wondering if flow could be otherwise adjusted.
I'm really looking forward to starting the scape properly and as I'm feeling enthusiastic about it I thought I'd start the journal from now!
When the scape is ready for livestock I plan on getting some yellow cardina from
@Steve Buce
, some Otos and may be a Betta (trying to read up on keeping them)
A few more tank pictures: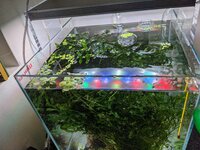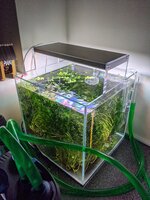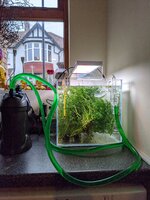 As always any comments, suggestions or observations are welcomed.
Last edited: