Hello UKAPS! I have been struggling with GDA(on glass and plants) for a while now and after reading many of your forum discussions I think my problem is low CO2. To remedy this I am trying to reduce CO2 demand by reducing temp from 28C to 25C, and reducing lighting by 40% (lights are 3 WRGB Pro 90 before were set at 100% intensity). I am also turning on CO2 earlier 2 hours before lights, and increasing the injection as much as the fish can handle. Trying to have proper CO2 right at lights on. One thing I would like to check with people here though is my flow since I hear flow is extremely important for proper CO2.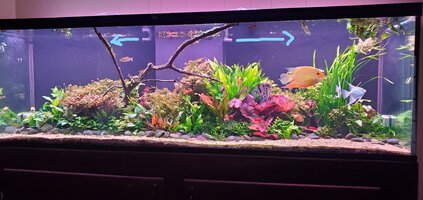 My tank is 244cm x 71cm x 71 cm, around 1200 liters. As you can see my flow is currently what is above I have a 20,000L per hour return pump (probably only 10,000LPH with the height/plumbing) pumping water from those two outlets and water going to the center overflow to be returned to the sump. Is this sufficient? I feel like it is since I see co2 bubbles everywhere pretty evenly, but I want to make sure. I am considering adding some wavemakers if needed. Where would be the best places to add wavemakers to optimize CO2 distribution?
Another thing I want to check is CO2 duration. From what I understand reading this forum, CO2 usage is highest at the beginning of the photoperiod and becomes much lower near the end. If I have an 11 hour photoperiod how early can I shut off CO2? If CO2 demand becomes much less during the last few hours, does that mean I can shut CO2 off during the last few hours? And if CO2 is off and demand is lower, does that mean I should also decrease my lights to something very dim last few hours? I also hear I should run lights very dim for 30 mins before full intensity to wake the plants up.
I currently have two ista max mini CO2 reactors providing CO2 into my return pump, there is still quite a bit of mist since my injection rate is so high, but it sounds like the best CO2 implementation is one with high dissolution (from my reactors) and high mist. I am still planning on getting a much larger cerges style reactor for my tank just to reduce micro bubbles, though in theory wouldn't my plants be negatively affected by having less mist in the tank?
Is there anything else I am missing that could help optimize the CO2 in my tank?
Sincerely,
Ricky