Joined

23 Mar 2022
Messages

212
Location
Finally got rid of fish and rocks (reef)
Now the project begins.
First I have filled tank which is a Red Sea Reefer 425XL with freshwater and Citric Acid and am just running equipment to give them a good clean and to clean tank tank before elbow grease is needed.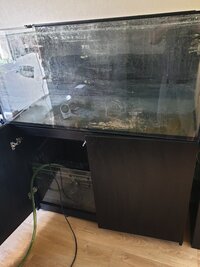 This will be a few weeks in the making due to time constraints. I dont know what it will be yet but choices are as follows-
Angel Fish tank
Rainbow Fish tank
Gourami Fish tank or
Community tank with a centrepiece fish.
Any other ideas my ears are open
'Scape wise I'm going for 2 different levels on both sides of the tank, with a row of stem plants to create a sort of 'S shape road' in the centre which will be carpeted.
Equipment wise I have the following (some is already on the tank from when it was a reef)-
Dragon rock
Tropica Soil Powder
Driftwood
Alfagrog
Apex controlled (ph, temp monitored. Flow meter. Leak detectors. Auto top up. Auto feeder. Will also control CO2 injection)
Automatic Fleece Filter (X-Filter 1.0)
Jebao 5000 wifi return pump
Maxspect Gyre 330 (if needed)
Red Sea Doser
CO2 art Pro SE regulator
5KG fire extinguisher
Drop checker and homemade 4dkh water
Large Bazooka_Flux diffuser
2 Radion G5 freshwater lights.
As this is a sumped tank I am going to place the diffuser right next to the return pump intake. If anybody has any better ideas how to distribute co2 in a sumped tank then I'm open to ideas.
The sump is set up as overflows into fleece filter and then through Alfagrog, then into 2 empty sections, 1 of which will have a small pump pointed at the surface to provide water agitation, then into return pump section, up through return pipe and out into tank via 2 random flow generators.
If anybody knows how to utilise the 2 empty sections than please let me know
Thats it for now I think, I will add more as i go along as i want as much detail as i can, Hope you enjoy the journey with me.
Last edited: