Joined

23 Nov 2021
Messages

126
Location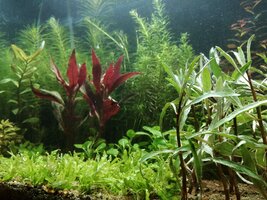 So a little update through this is not a good representation of current status of tank...
You will see there has been some significant changes with the most obvious being the addition of ludwigia white!!
You will see from pic that this still in its emersed form and I have a long way to go before there is any luscious white and pink stems. But thought a picture update was appropriate given the controversial location. 😊
Additional plants have been added and removed. This mornings sadly I found that all my ludwigia super red has rotted from base of the stems. I have replanted tops but I suspect this will need to be replaced or changed as healthy stems are looking weak.
I would give picture update of tank currently but I think it is fair to say that until the tank has recovered from trims, replanting and plants fully converted all pics will look a bit bleak...
I was going to post new plant location map but given I have changed alot since last drawn. I'll hold off till things have settled in encase of more changes.