Joined

4 Feb 2010
Messages

2,101
Hello
So I had a crack at a wabi!
I ordered some coconut fibre/husk, cut it up and wet it down. Mixed it in with some aqua soil to make a ball....very messy!!
I then wrapped longer strands of the husk around the ball.
Tired that with fishing line to keep it tight.
Then I used a ton of moss to coat the whole ball and then tied that too!!
Here's the result with a few left overs from my recent recent scape of the ADA 30c.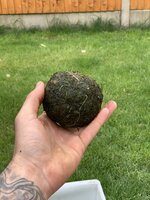 After the ball was made I stabbed holes and planted he left overs.
It's now stuck in a temporary vase until Ikea delivery gets here on the 1st of June! CANT WAIT!!!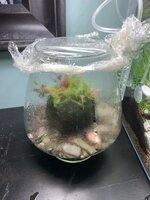 I may do another and video the process.
ALSO!!! - i feel like the wabi ball should be around 75% submerged with just the top quarter and rooted planted out of the water? Is that right?
Any suggestions on water level would be a huge help.
Last edited: