Well I'm returning to a new setup after several years away from planted tanks.
I've already been skimming through the fora here picking up ideas and asking some questions.
It will be a high tech tank that I'm building from scratch (including the tank itself) as, in typical fashion, I want something particular.
I have had a Fluval Edge 45L in the past and just like the look of the slightly undersized base and light arrangement - accentuates the tank.
However the biggest frustration with these tanks is the restricted access through the top 'opening'.
So I'm taking the Fluval Edge style and putting my own twist on it.
Using solid Oak worktops, I am creating a base, rear 'box' to contain all the pipework, to which the hood (also made out of oak worktop) will be hinged at the back so it can simply lift out of the way of the open topped tank.
Illustration attached below - Was going to use 3 x aquaray mini tiles until I discovered they were discontinued.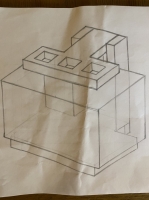 Last edited: