Joined

7 Sep 2018
Messages

172
Location
My tank
is 30 l and I'm dosing TNC Complete. I've noticed some leaves of my Bucephalandra Pygmaea are a bit pale (yellowish) with green veins. Looked it up and seems like Mg deficiency (?).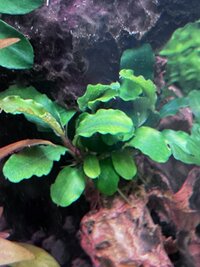 According to TNC, the dosage is 1ml/10l/week, but can be x2 or x3 depending on plant growth, WC, etc. So I'm dosing 3 ml 2 times a week.
However, the Nutrient dosing calculator (estimative index) says I should dose 7.5 ml 2-4 times a week.
Should I:
A. Increase the TNC recommended dosage to 9 ml/week ( 3 ml x 3) or even 12 ml/week (3 ml x 4)?
B. Follow the calculator's advice and dose 7.5 ml 3 times a week?
C. Keep the current dosage and supplement with Magnesium Sulphate Heptahydrate (Epsom Salts)?
D. Just do nothing because I'm overthinking it and there's no problem?
Cheers!