Joined

18 Dec 2014
Messages

955
Location
Finally have enough parts to start working a bit on layout and hardscape, so I figured this was the time to start a journal to go with it.
Tank:
Red sea reefer 120x50x50 cm, sump 80x40x40 or close to that size. All plumbing is hidden in dry chamber/cabinet.
Lights:
Chihiros wrgb2
Titanium heater
Still to get:
dosing pump
2x twinstar nano
dual CO2 regulators/bottles (that is, I have one set currently, need to get a second).
Hardscape:
Beech branch and twigs collected in the woods nearby
River rock collected from my garden and found during holidays last year.
Soil will be aqua soil and sand mixxed with grit.
I'll be dosing EI most likely, but premixxed into all in one from a source I've heard good things about recently, dosing daily via the auto doser.
CO2 aiming for +-20mg/l as I feel fish are more active then.
Intended plant list:
Red lotus
blyxxa
mosses
dwarf hair grass
crinum
anubias nana
buces
Rotala macrandra
aponogeton crispus or cryptocorine crispulata
vallisneria nana
Pics this far: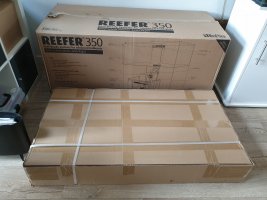 The boxes arrived, heavy stuff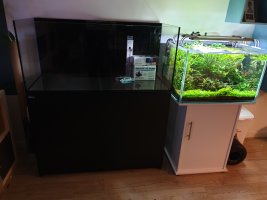 Assembled and positioned next to the tank its replacing.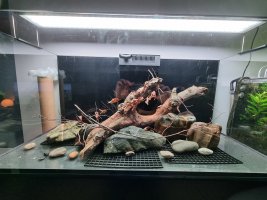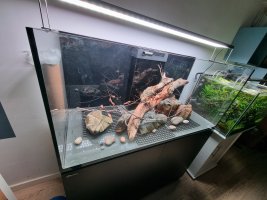 First layout tests, this is the general feeling I'm going for, a branch that fell into a stream, being engulfed by plants eventually.
I'm avoiding big epifytes this time round, as I dont want the wood to vanish underneath masses of fern
I'm open for suggestions!
Fish plans, I'm thinking of these options, not saying I'm getting all of them:
panda cory or smaller (15-ish)
pair of dwarf cichlids (one that is relatively mild in behaviour) or badis badis
Barbs or another energetic group fish (about 25)
Serpae tetra (10 from the old tank, plus another 5 or so)
Maybe hatchetfish, the tank has a net cover with it (not on it in the pics)
kuhlis (from previous tank, about 5-6)
siamese algae eater (from previous tank)
8 ottos
15 amano shrimp
pair of Pearl gourami
pair of livebearers for the kids (molly, swords or platy)
1 male guppy for my youngest
4 green tetra, left over from many tanks ago, still holding on.
Advice on the fish choices is welcome too!